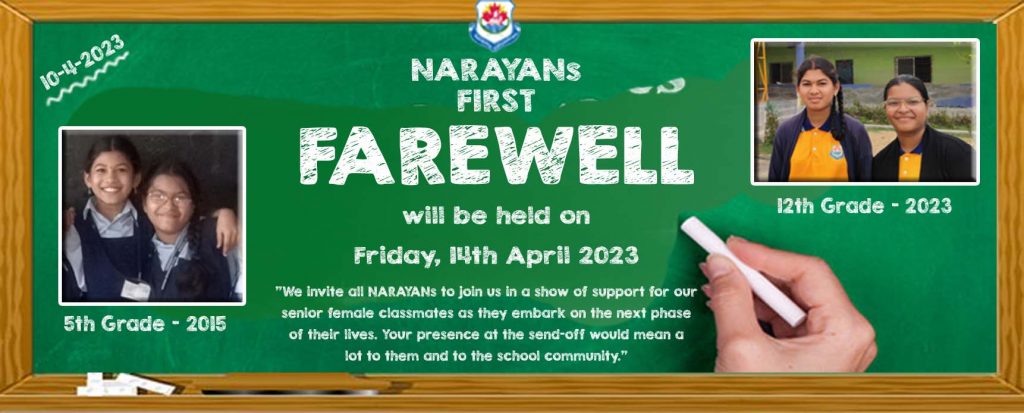 I hope this message finds you well. As you may already know, our school is bidding farewell to our 12th-grade students who have successfully completed their academic journey with us. This is a special moment for our school as it marks the first batch of students to graduate from our institution.
As we look back on their journey from their early days as young students to the confident young women they are today, we feel proud of their accomplishments and the memories they have created along the way. We are confident that their 12th-grade certificate will be a testament to the high-quality education that our school provides, and will be a significant factor in their college admission process.
It is worth mentioning that our students will be joining colleges where they will meet with students from other schools. We believe that our students' abilities will be unique among them, and we are confident that our girls will make us proud.
Finally, we would like to acknowledge the mischiefs and games our students played during their time at our school. These memories will never be forgotten, and we hope that they will always cherish them.
Thank you for your continued support in our school's journey.
About the students:
Certainly! The students who are graduating from our school have shown exceptional academic and personal growth during their time with us. They have consistently demonstrated a commitment to learning and have engaged in various extracurricular activities, including sports, arts, and community service.
Our students are well-rounded and have developed essential skills such as critical thinking, problem-solving, and teamwork. They have also shown leadership qualities, taking on leadership roles in various school clubs and organizations.
Additionally, our students are known for their positive attitude, compassion, and respect for others. They have developed a strong sense of community and have always been willing to help and support their fellow students.
Overall, our graduating students have been outstanding representatives of our school, and we have no doubt that they will continue to excel in their future academic and personal endeavors.
About the parents who trust our school:
Our school is fortunate to have a community of parents who trust us to provide their children with a quality education. Our parents are diverse, and they come from different backgrounds and cultures, but they all share a common goal – to see their children succeed.
Our parents are actively involved in their children's education, and they regularly participate in school events and activities. They collaborate with our teachers and administrators to ensure that their children receive the best possible education.
We appreciate the trust that our parents have placed in our school, and we are committed to upholding our standards of excellence. We strive to provide our students with a safe, nurturing, and inclusive learning environment that fosters academic, personal, and social growth.
We recognize that our parents play a vital role in our students' education, and we value their input and feedback. We believe that by working together, we can ensure that our students receive the education they need to achieve their full potential.
Overall, our parents are an essential part of our school community, and we are grateful for their support and partnership in helping our students succeed.
About parents who leave school without hope and enroll their children in other schools:
It is always difficult when a family decides to leave our school, and we understand that every family has their reasons for doing so. Some families may feel that our school is not the right fit for their children or that their children would benefit from a different educational environment.
Regardless of the reasons, we respect the decisions that families make, and we understand that enrolling their children in another school is a significant decision.
We hope that the families who have left our school without hope have found a school that better meets their needs and that their children are thriving in their new environment. While we are sorry to see them go, we wish them all the best in their future academic and personal endeavors.
We also believe that every school has its unique strengths and challenges, and families need to find the best fit for their children. We strive to continuously improve our school and provide the best possible education for our students.
We are always open to feedback and are willing to listen to the concerns and suggestions of our parents. We value their input and believe that by working together, we can create a better educational experience for our students.
It becomes clear what the difference between our school and other schools is when our students join the next college
We are confident that our students will stand out when they join their next college, and we believe that their experiences at our school will help them succeed in their future academic and personal endeavors.
Our school has a unique approach to education that emphasizes both academic excellence and personal growth. We provide our students with a rigorous academic curriculum that challenges them to think critically, solve problems, and develop essential skills that will serve them well in college and beyond.
In addition to our academic program, we offer a wide range of extracurricular activities that allow our students to explore their interests and develop their talents. We encourage our students to be active members of our school community and to engage in community service and leadership opportunities.
Our school also has a supportive and nurturing environment that fosters a strong sense of community and belonging. We believe that our students' personal growth is just as important as their academic success, and we strive to help our students develop the skills and values they need to become responsible, compassionate, and successful adults.
Overall, we believe that our approach to education sets us apart from other schools, and we are confident that our students will thrive when they join their next college.
Warm Regards,
Suresh V Pandurangan, Founder.